A pregnant New York City woman who went viral on Twitter after she was accused of racism during a dispute with several young men about a rented bicycle paid for the bike, her attorney said Wednesday.
He also provided what he said was proof, the New York Post reported Thursday.
In a video that has been viewed millions of times, Sarah Comrie, wearing medical scrubs, got into an altercation over a Citi Bike with a man off-camera who tried to take it from her.
In the clip, the man claimed he paid to rent it and Comrie tried to steal it from him.
"Help!" she yelled while the man said, "This is my bike on my account, please move."
As the confrontation continued, Comrie, who is white, was jostled by one of the young men, who are black, and started crying.
The expectant mother was labeled a "Karen" by numerous Twitter users.
Some people who shared the video on Twitter went as far as to label Comrie a "white supremacist."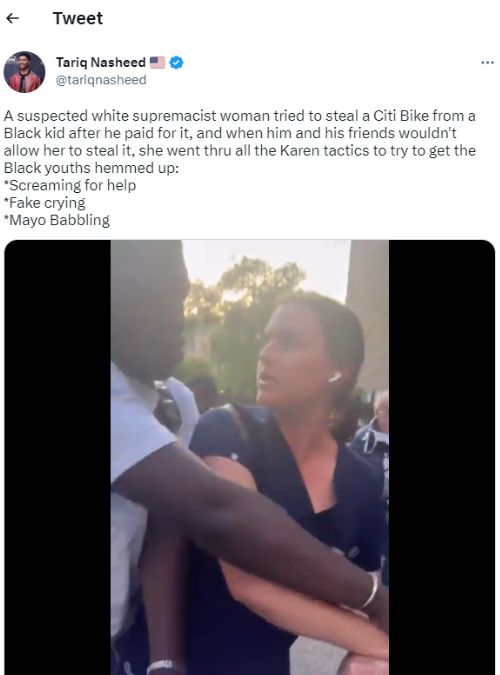 Attorney Ben Crump upped the ante when he accused her of endangering black men.
"This is unacceptable! A white woman was caught on camera attempting to STEAL a Citi Bike from a young Black man in NYC," he tweeted along with the clip on Sunday.
Crump added, "She grossly tried to weaponize her tears to paint this man as a threat. This is EXACTLY the type of behavior that has endangered so many Black men in the past!"
In the wake of the Post's report, a Community Note was attached to the tweet that said, "In fact, the white woman paid for the bike. A group of black teenagers robbed her bike."
Crump's tweet was deleted Friday afternoon.
The Post reported Comrie is six months pregnant and her attorney provided the outlet with two receipts that show she rented the bike and not the other way around.
Attorney Justin Marino said his client has a receipt showing she paid for the bike at the center of the dispute.
Marino said she has a second receipt that shows Comrie rented a second bicycle in order to get home after she was heckled by a crowd of onlookers.
[firefly_poll]
The attorney said his client rented the first bike but it was put back into the lock by the men on the video while she was trying to ride it home.
"One or more individuals in that group physically pushed her bike (with her on it) back into the docking station, causing it to re-lock," he said.
In the video, Comirie expressed concerns about her unborn child, which drew ridicule from people who witnessed the incident.
Marino also said one of the men blocked the QR code on the bike so Comrie could not scan it to pay for it a second time.
In doing so, he allegedly touched her stomach, which is why she reminded the crowd she was pregnant.
"The fact anyone would treat another person like this is tragic, especially a visibly pregnant woman," the attorney said.
Marino told Fox News on Thursday he will sue a number of media outlets for defamation on her behalf.
Comrie, a physician's assistant at Bellevue Hospital, was placed on leave from her job after the video went viral.
"We have recently become aware of an incident that occurred off-campus over the weekend and appears to involve one of our employees. We are sorry this happened and are reviewing the incident," the hospital said in a statement, according to WNBC-TV.
"NYC Health + Hospitals/Bellevue is committed to providing the highest quality care to all New Yorkers with dignity, cultural sensitivity and compassion," it said.
This article appeared originally on The Western Journal.